Vertical bow and streamlined profile, stylistically this project has broken the mould of the time becoming an icon of sportiness and elegance. Today the fleet of Columbus Yachts SPORT line is enriched with a new 50-metre model characterized by the distinctive elements of this design which combine new aesthetic nuances with an engineering development of the hull to guarantee a high level of comfort even when cruising in rough sea conditions.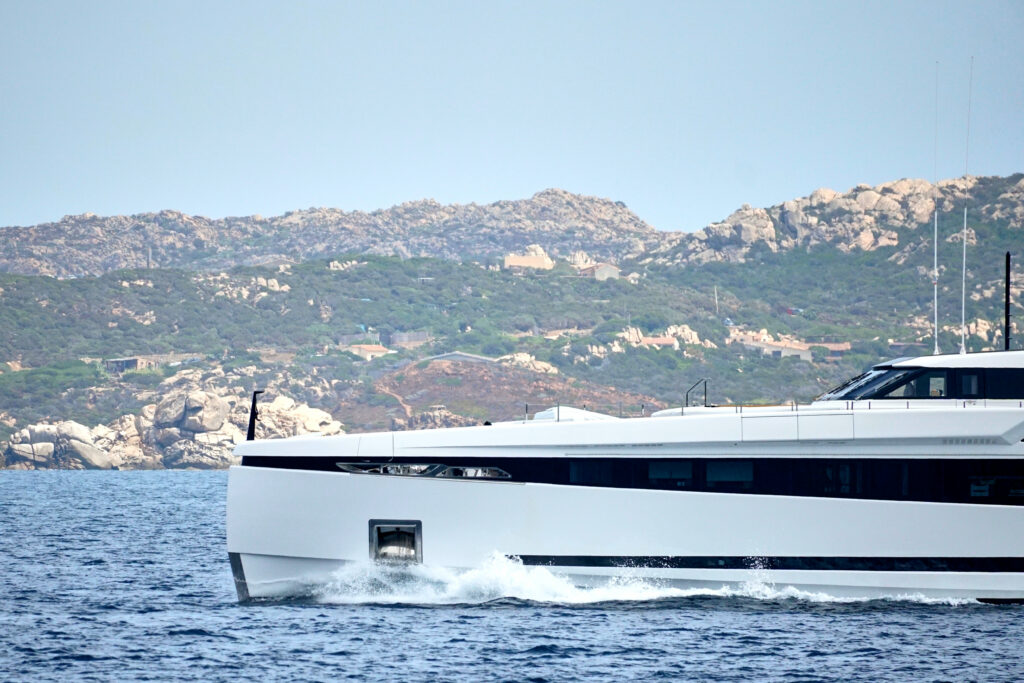 Before being on board in Monaco during Monaco Yacht Show 2021, we've seen this yacht cruising around Sardinia, Italy.
Columbus Sport 50's naval engineering was developed by Palumbo Superyachts in collaboration with the Hydro Tec studio, while the exterior and interior design is penned by Luca Dini Design & Architecture.
Featuring several new solutions designed to the specific request of its experienced Owner who is on his third project with Palumbo Superyachts, M/Y K2 accommodates 11 guests in five comfortable cabins and 11 crew members sharing seven cabins.
"The concept of this yacht mirrors the personality, style and approach to life of its owner. Elegant, refined, attentive, demanding, but also sporty, traveller and open-minded.", comments Luca Dini, founder of the Luca Dini Design & Architecture studio.
From the naval engineering and architecture point of view, the lines of Columbus Sport 50 M/Y K2 are characterized by a razor-sharp vertical bow, with double-edged cross sections to improve seaworthiness and keep the boat dry even in rough sea conditions.
The interior is clean, bright, harmonious and coherent. The layout has attractive outdoor spaces ideal for conviviality as they provide the flexibility of enjoying various daytime activities by easily transforming the sunpads into conversation seating sets or creating areas suitable for receiving guests. To maximise the versatility of each area, great attention was paid to shading solutions. On the two decks, bar and dining facilities are set up both indoor and outdoor. A comfortable entertaining area has been created in the upper deck, with a large TV screen, bar and a game table.
A swimming pool with Jacuzzi is located forward on the upper deck and can be reached from the cockpit through two large side walkways that turn the whole deck into a proper relaxation and entertainment area.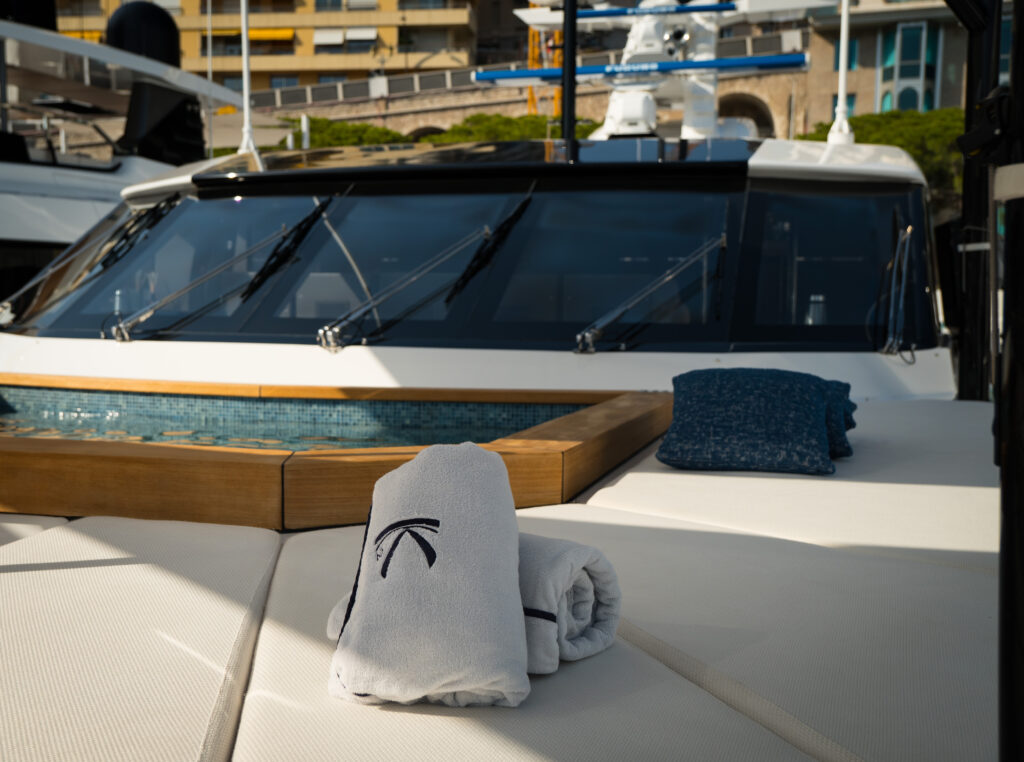 The fitness section in the owner's area forward on the main deck, spreads over 18 square metres and is equipped like a functional gym designed in every detail and complete with a hammam in the owner's bathroom.
The beach club, thanks also to the transformer platform with an approximately 4 square metre pop-up accessory automatically raising when the platform opens, offers a generous relaxation and entertainment area.
Zyricote and Tanganyika Frisè, two wood essences with an exotic and decò flair, the reflections of lacquer and steel details, together with the soft textures of leather and fabrics modulate the atmosphere of any environment on board. The cappuccino-coloured onyx and the white Lasa floor mat used in the bathrooms are also very impressive.
It is a precious interior, reserving pleasant surprises and welcoming with reassuring luxury.
Another aspect particularly well developed from a technical perspective was the reduction of noise and vibrations reaching extremely low noise levels in the guest rooms and especially significant because obtained at a value of 85% of the maximum power of the propulsion system, therefore at a speed slightly higher than 20 knots.
Powered by two 2000 HP MTU engines, M/Y K2 is able to reach a maximum speed of 21.5 knots, with a cruising speed of 17 knots and a wide range for transatlantic crossings. A multitouch dashboard, designed in collaboration with the Palumbo Superyachts team and the Captain of M/Y K2, was built on the concepts of safety and manoeuvrability, providing the captain with adaptability in any sea condition.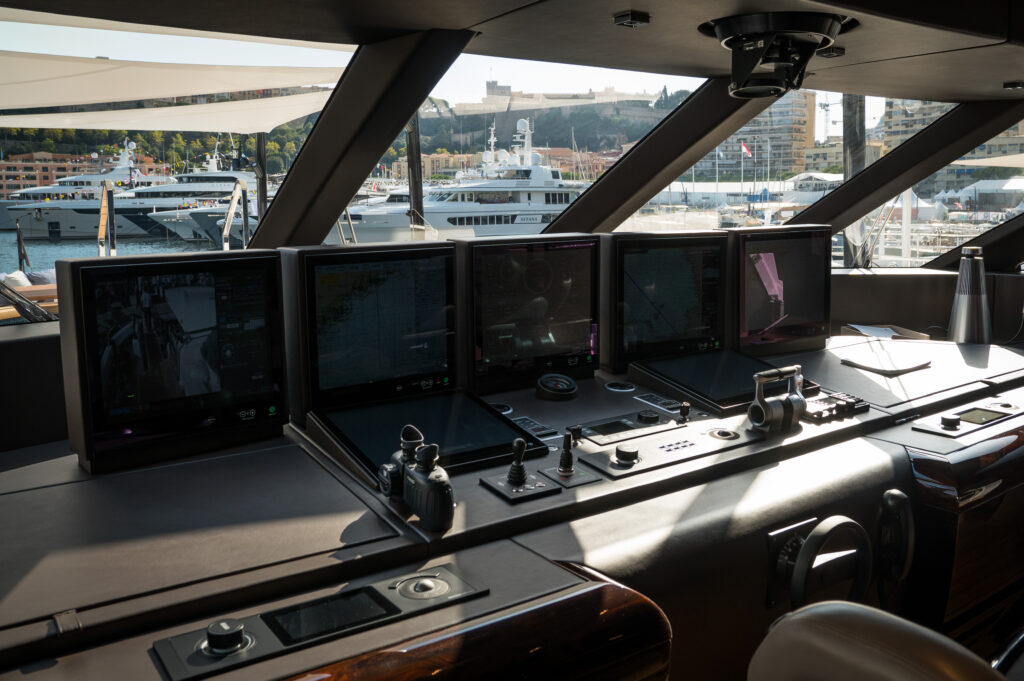 The boat is equipped with a tender and jet ski respectively positioned astern of the lower deck (3.31 metre Seadoo) and at the bow (Castoldi Jet tender 21 of 6.5 metres). The tender is launched and hauled through a side opening in the hull.
All pictures are taken by ourselves!