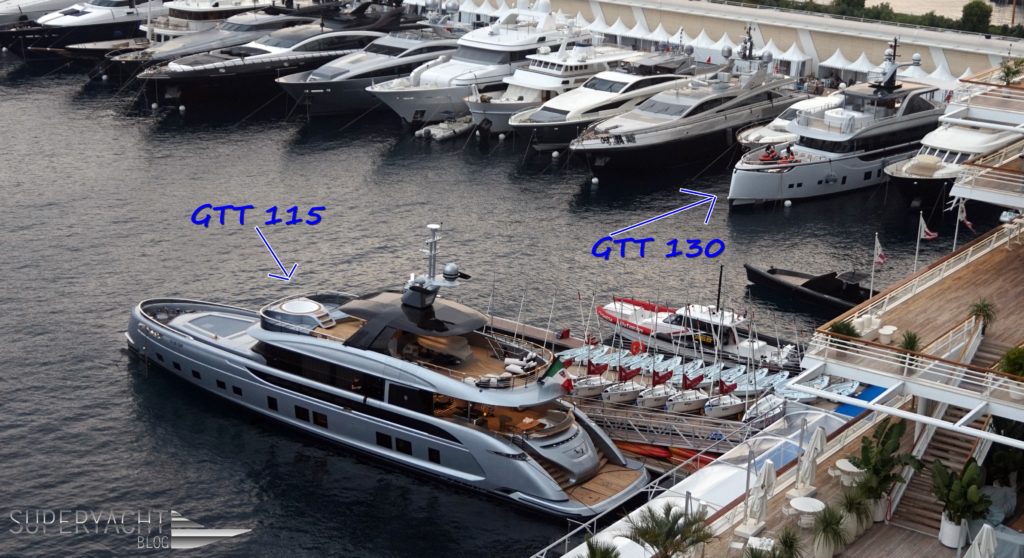 1 of 7 ist eine 35 Meter lange Superyacht gebaut von der jungen Dynamiq Werft. Das Unternehmen hat seinen Sitz in Monaco, lässt ihr Yachten jedoch im italienischen Viareggio bauen. Bereits im vorletzten Jahr präsentierte Dynamiq die GTT 130, eine 39 Meter lange Yacht mit dem Namen "Jetsetter". Nun jedoch zu der Dynamiq GTT 115 welche im letzten Jahr auf der Monaco Yacht Show präsentiert wurde. "1 of 7" wurde gerade erst gebaut und ist auf ihrer Probefahrt direkt nach Monaco gefahren um dort vorgestellt zu werden. Die 35 Meter lange Yacht wurde im Jahr 2017 gebaut und steht Aktuell zum Verkauf. An Bord können sechs Gäste in drei Kabinen untergebracht werden, es gibt allerdings auch die Möglichkeit ein Layout mit vier Kabinen zu bestellen. Dies ist möglich im eigenen Konfigurator auf der Webseite von  Dynamiq. Eine sechsköpfige Crew versorgt den Eigner auf seiner Yacht. Die Crewkabinen befinden sich auf dem Unterendeck unter den Tendern. Der Crew Bereich ist sehr geschickt mit einer Treppe von der Brücke zu erreichen. "1 of 7" erreicht bei 21 Knoten die Höchstgeschwindigkeit. Die Reisegeschwindigkeit beträgt 19 Knoten und am ökonomischsten reist man mit 9 Knoten, dabei verbraucht die Yacht nach Angaben von Dynamiq lediglich 52 Liter Diesel pro Stunde. Durch einen Unterwasserspoiler mit dem Namen Hull Vane® wird ein Hydrodynamischer Auftrieb erzeugt, wodurch der Sprit Verbrauch reduziert wird. Dieses System wurde von Van Oossanen Naval Architects entwickelt und verringert beim Ankern zusätzlich noch das Stampfen und Gieren der Yacht. Zusätzlich befinden sich an Bord noch vier kleinere Flossenstabilisatoren.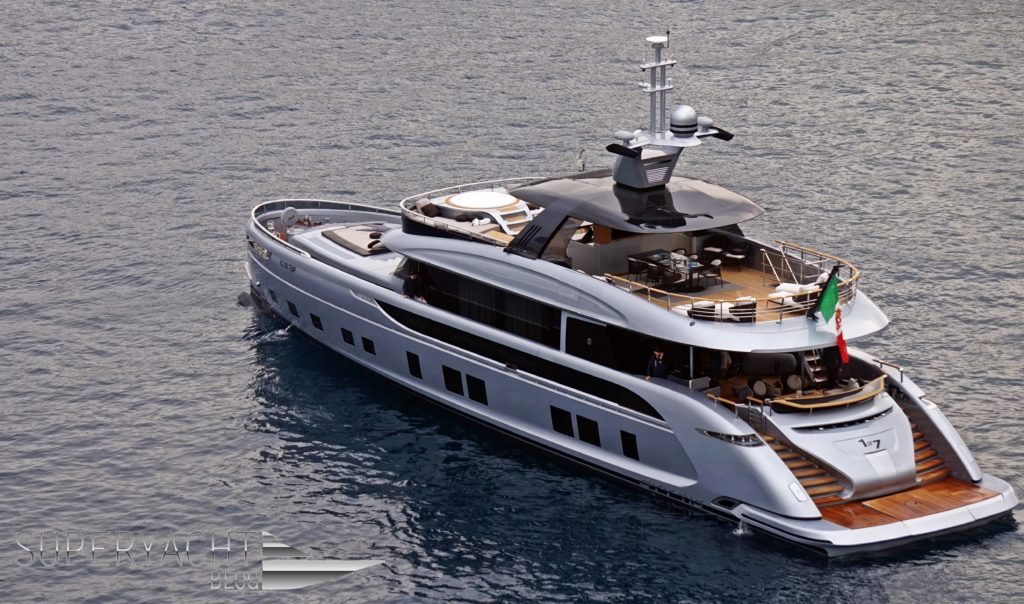 Im Interieur und Exterieur hat sich das Studio F.A. Porsche ausgetobt und ein fantastisches Design verwirklicht. Im Inneren der Yacht finden sich viele Ähnlichkeiten und Anspielungen auf die Automobil Marke Porsche. Da wären zum einen die verwendeten Stoffe und Farben, desweiteren auch Armaturen und Designlinien, wie es sie sonst nur bei dem Autobauer aus Zuffenhausen zu finden gibt. Die Farbauswahl bei der Superyacht könnte sich nach dem Porsche in der eigenen Garage richten, "Rhodium Silver", "Monte-Carlo Blue" oder "Chalk" um ein paar zu nennen. Dynamiqs erste GTT 115 ist, wie der Name bereits vermuten lässt, die Erste von nur Sieben Yachten die in diesem Format gebaut werden. An Bord fällt einem sofort das üppige Platzangebot auf, im Inneren sind überall Deckenhöhen von über 2,10m. Die verwendeten Materialien sind alle in einer ausgezeichneten Qualität. Ohne die Eckdaten der Yacht zu kennen könnte man durchaus denken, man befindet sich auf einer deutlich größeren Luxusyacht. Im Heck befindet sich ein Loungebereich um in der Sonne zu entspannen, anschließend geht es in den Essbereich wo ein runder Tisch mit Platz für bis zu acht Gäste steht. Diesem angeschlossen ist der Saloon zu finden mit gemütlicher Couch in klassischem Porsche Design. Vor dem Saloon befindet sich die Brücke, auf der ein Sportwagensitz für den Kapitän bestimmt ist. Von der Brücke überblickt man eine Liegefläche unter der sich die Tender befinden. Auf dem großen Sonnendeck (95m²) sind ein Jacuzzi, eine Bar, sowie ein weiterer Essbereich untergebracht. An der Bar erkennt man sofort wer für das Design verantwortlich ist, denn die Theke hat die sportliche Form eines Spoilers. Auch das Sonnenbaden kommt auf dem obersten Deck nicht zu kurz, im Achterbereich und neben dem Whirlpool befindet sich genügend Platz um sich zu bräunen.
Die Kabinen für Eigner und Gäste befinden sich auf dem unteren Deck Mittschiffs. Der zukünftige Eigner hat eine Kabine welche über die komplette Breite der Yacht gebaut ist. Ein schwarz-weiß gemusterter Teppich ist in den Kabinen ausgelegt und verleiht dem Raum einen retro- und modernen Look zu gleich. Neben einem begehbaren Kleiderschrank ist auch ein Eignerbadezimmer mit zwei Waschbecken integriert. Die Gäste schlafen in zwei gleich großen VIP Kabinen unterhalb des Essbereichs.
"1 of 7" steht aktuell für einen Preis von 13.950.000€ zum Verkauf.  Die Grundausstattung des Modells beträgt 12.500.000€.
Interieur Bilder, sowie weitere Daten und Fakten findet Ihr bei Dynamiq Yachts.
Ein Video von der Superyacht in Monaco gibt es auf meinem YouTube Kanal: Superyachtblog