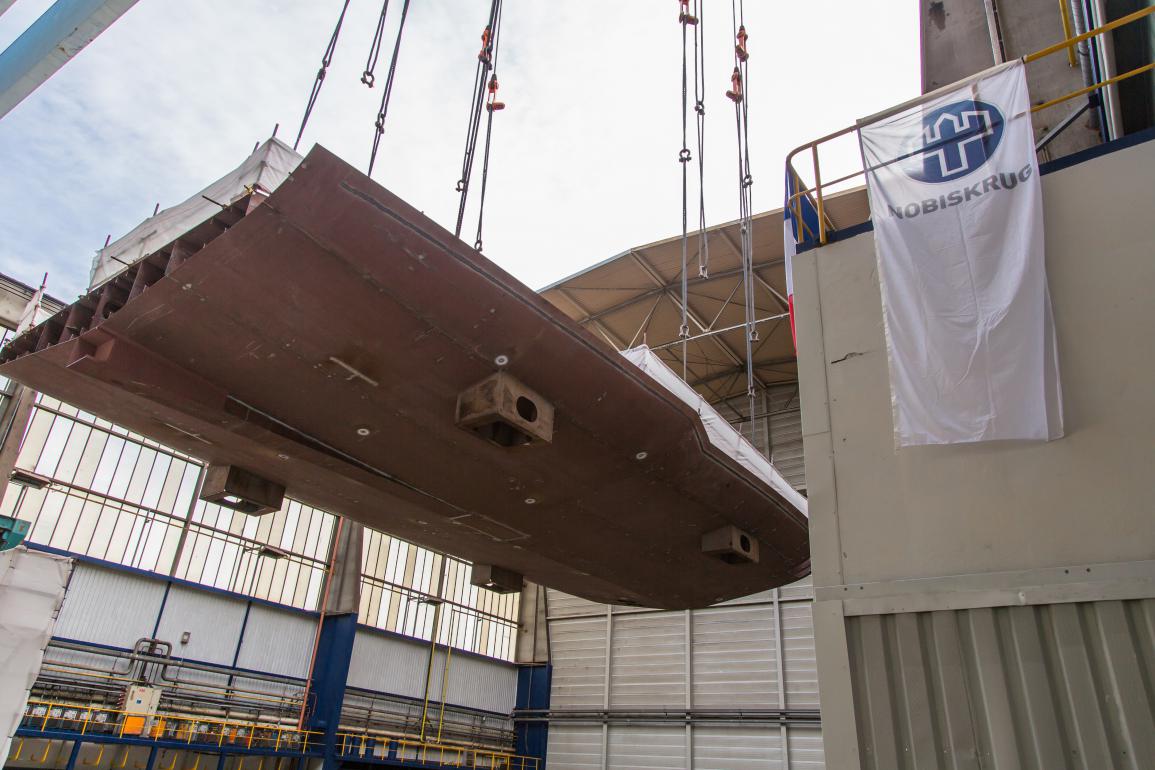 "Rendsburg/Kiel, Germany – The ceremonial keel laying of a next Nobiskrug superyacht-new build project took place at the shipyard's premises in Kiel.
After gathering of the guests and the yard's team and following a short address of the management, an 80-ton block-section was lifted by crane into the building shed, marking another important milestone of the construction of the 80-meter superyacht. The construction of all sections with a very high degree of outfitting up to assembly of the complete hull will take place in the sheds of the yard under controlled climate conditions – there with warranting utmost quality.
Traditionally, the Owner brought a special coin that was placed under the keel and once the yacht will be near to completion, the coin will be retrieved and presented back to the Owner for good luck while sailing the oceans.
"This happy occasion indicates the start of the hull assembly of the superyacht – when, for the first time she is considered to have a soul. It is also a traditional maritime ceremony to bring good fortune to a vessel during her construction and to her captain, guests and crew during her life" said Holger Kahl, Managing Director.
This technically fascinating yacht with outstanding, unique design features both in the exterior and interior styling will noticeably set a mark for the future use of glass on superyachts. The spacious and modern concept and the innovative technology of the vessel will contribute in creating a special comfort feeling while cruising in the beautiful areas of the world.
"Nobiskrug is known for pushing the boundaries and for not being a mass builder, every superyacht we build represents a unique vision of the owner – this project is just another example we are very proud of" added Holger Kahl.
After the keel was laid, the Owner and guests were invited for lunch in the Sky-Lounge on top of the 900t gantry crane which is one of Kiel's landmarks. It offers a reception area at an approximate height of 100m and an impressive 360-degree panoramic view of the Kiel-Fjord.
Still to be named, the 80-meter superyacht is set to be delivered in 2019, when it becomes the next gem of the Nobiskrug fleet of bespoke SUPERYACHTS FOR THE 22nd CENTURY."
Press release from Nobiskrug