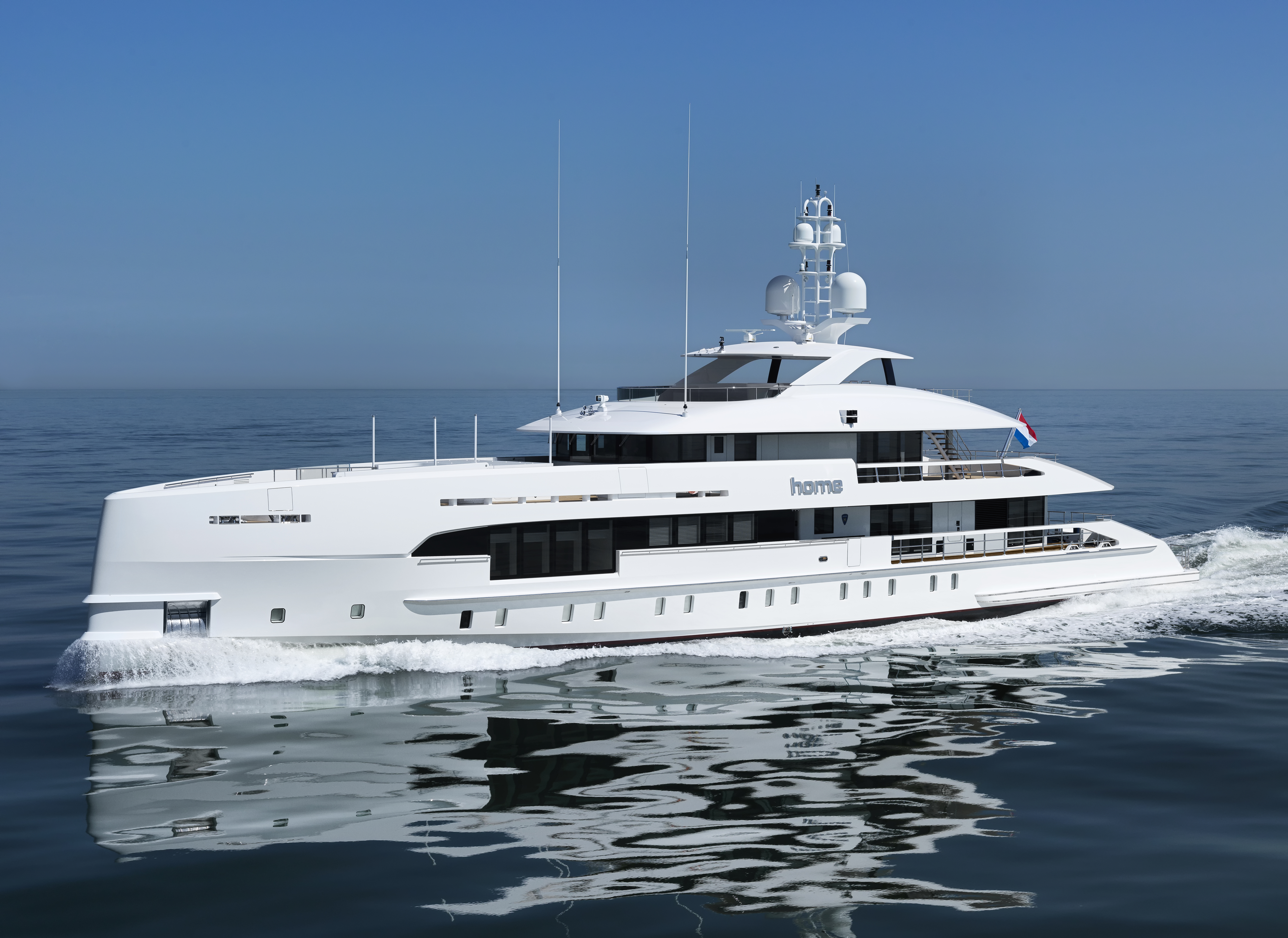 Heesen Yachts delivers YN 17850 – HOME – the world's first Fast Displacement Hull Form motor yacht with hybrid propulsion.
Heesen Yachts is proud to announce that on 1 July 2017, the world's first Fast Displacement motor yacht equipped with hybrid propulsion was delivered to her Owner in international waters.  
HOME (formerly Project NOVA) – a 50m all aluminium motor yacht below 500GT with shallow draft – underwent intensive sea trials in the North Sea for five days in calm sea conditions, with waves of up to 0.5m and light breeze.  
The results are impressive: not only has HOME easily exceeded her contractual maximum speed of 16.3 knots in the traditional diesel engine mode, but also expectations in her hybrid 'silent cruising mode'. Thanks to two 127kW water-cooled DC electric shaft motors, she exceeded the predicted speed of 9 knots with noise and vibration levels well below the specification levels. 
HOME is not only ultra-quiet, but she is also extremely fuel efficient. At 12 knots, she has a fuel consumption of 98 litres per hour (excluding generators) and at 10 knots in hybrid mode this further reduces to a staggering 45 litres per hour, which for a 50m yacht, displacing 295 tons and with a Gross Tonnage of 499, is an outstanding achievement. Heesen is renowned for its meticulous attention to weight reduction and HOME is an effortless embodiment of this; being lighter than predicted, she is the perfect demonstration of Heesen's signature capabilities.
This impressive performance is achieved with just two MTU 12V 2000 M61 engines of 600 kW each, which are smaller than those typically fitted on a yacht of this size. This once again proves the remarkable efficiency of the Fast Displacement Hull form devised by Van Oossanen Naval Architects; engineered by Heesen's in-house specialists and perfectly executed by Heesen's talented team of welders.
HOME has also exceeded her range predictions measuring an impressive 4,250 miles at 12 knots – 500 more than specified. This was achieved with a fuel capacity of just 45,000 litres, further underlining the remarkable efficiency of the Fast Displacement hull. 
HOME is not only extraordinary for her exceptional performance and excellent seakeeping tendencies, she is also a head-turner. Frank Laupman of Omega Architects is responsible for her striking profile. From her vertical bow and characterising spray rails, to her stern with a large fixed swim platform, wide sweeping stairs leading to the main deck and floor-to-ceiling glass windows, HOME is a design delight.  
Interior stylist Cristiano Gatto worked closely with the Owner to create an interior décor that boasts a sophisticated linear design based on a two-tone palette. This theme gives a relaxed and bright feel throughout the whole interior, inviting the outdoors and spectacular vistas to feature centre stage from within.
HOME will debut at the Monaco Yacht Show from 27-30 September 2017.
Heesen inform that a sister ship to HOME is under construction at the shipyard and will be available for sale, with delivery in March 2019. Interested parties should contact them for further details.
Home (Project Nova)  Pictures: Dick Holthuis/ Heesen Yachts
PRESS RELEASE by Heesen Yachts